Print page
The war lives on!
Henri Corneillie & Suzanne Levilain
These names probably mean nothing to you? This is very possible as these people lived a very modest life. He is my great-grandfather (°1893-1972), she is my 'mémé Bobonne', my great grandmother (°1900-1986). And what would make them special is the following:
He was a soldier in the 2nd 'chasseurs à pied' (also called "Green Devils" infantry regiment) in the Belgian army during World War I. (registration number 54262, battle of the Gete, battle of Verbrande Brug, battle of Eppegem, Buggenhout, battle of Ertvelde, battle of the Yser, Oud-Stuivekenskerke, Ramskappelle)
He was one of the mostly decorated Belgian soldiers from WW1, particularly brave and praised for his cold blood. There were few soldiers with so many decorations and signs, Knight and officer of the order of Leopold, medals of combat at the Front... After all, in these times, the medals were first granted to the officers...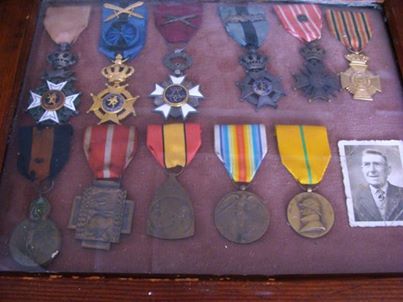 Medals awarded to Henri Corneillie
His unit was so much thinned by the losses that they have been rearranged in the 5th chasseurs à pied. The Green Devils had already lost more than half of their men; 54 to 17 officers and 4500 to 2050 men. They were deployed at Oud-Stuivekenskerke in Diksmuide together with the remainder of the French naval fusiliers: "pompoms" because the characteristic red ball on their hat. Of this division only 2 men of the original 2,750 would survive the Great War. He has repeatedly shown exceptional courage "in the face of the enemy", he was seriously injured in action at Boezinge-Lizerne; only a few meters from the location of the actual winery.
During "man against man" fighting a German soldier stuck his bayonet in his chest. It was his war journal that prevented the bayonet from reaching his heart. He laid heavily wounded on the battlefield when a shell exploded next to him, this blew off his right elbow, and ripped out two ribs. He also received several pieces of shrapnel in his body.
When it was found, they took him to the local field hospital, there they patched him up a bit and sent him on transport for further care behind the lines. Finally he arrived at Rouen, hospital Bon Secours more dead than alive.
It is a very young nurse of just 16 years, Suzanne Levillain, who reported to doctors that this man was not yet dead as he was put with the dying. The laconic reply was, that they had more urgent business... first the soldiers that they could return to the front. And if she was that concerned, she only had to take care of him herself.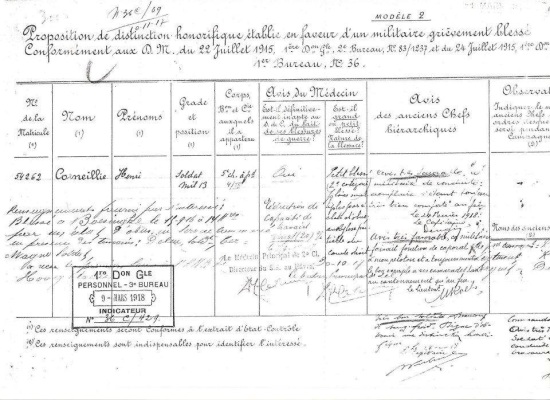 Proposition de distinction honorifique établie en faveur d'un militaire grièvement blessé.
That's exactly what she did, and with a lot of determination, as she nursed him back to the life for 4 years. They married and she followed him to Flanders. She became my great-grandmother, my 'Mémé Bobonne'. Florence Nightingale before the term even existed, or as in the drama TV-series "in Flanders Fields" but then without the fiction. Probably one of the many stories of the war, but surely a very nice one.
He was a Great War invalid but together they moved on, they went to work in the textile industry in the North of the France. They are buried together in the churchyard of Dadizele.
Without this war they would never have met and... as for me, I would not be here either! My eldest son was named after him. And my sons call my mother also 'Mémé Bobonne'. That a 100 years later his great grandson, without knowing the details of this story, started a vineyard at the very location where he fought and got wounded cannot be a coincidence. He who loved a nip of a bottle so much. I'm sure he's up there watching over us.
Today we keep in touch with the descendants of the family in Normandy, and are respectful of a land which is now "Holy Ground" by making exceptional wines, always remembering the past.
---
Contact us
Tel: +32 484 / 296 333
E-mail: info@zilvercruys.be
Silver Cross Winery
Diksmuidseweg 530
8904 Boezinge, Belgium;
Show on a map